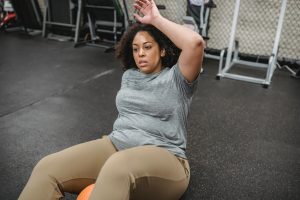 If you're spending hours at the gym every day pushing it hard at peak intensity, but you aren't getting the results you want, maybe you work out too much. Yes, you can get too much of a good thing, especially if your workout is intense. Getting fit is finding the right blend of intense exercise and rest. Consider how hard people worked in early industrialized America, yet they died early. Part of the reason was diet and lack of medical care, but part of it was not giving the body a chance to recover and heal.
While your great-great grandparents or great-great-great grandparents may not have had a choice, you do.
People who want results often decide that more is better and sometimes it is, but that's not always true when it comes to exercise. When you're building muscles, the exercise causes micro tears in the muscle, which requires time to heal. As it heals, it causes scar tissue and becomes bigger and stronger. If you don't give it time to heal and build, at least 48 to 72 hours between tough workouts, you continually tear the muscle tissue and that can slow your progress. It taxes the body, rather than helps you get fitter.
It's all about the design of your program.
Can you do strength training every day? Yes, but your program needs to be designed well to ensure you give all muscles a rest. You can work on different areas of the body, allowing every muscle group to have the 48 to 72 hours of rest to heal. Alternating your workout by focusing on various types of exercise, such as cardio, strength, balance and flexibility, during the week is another way to help prevent muscle stress.
Listen to your body.
If your performance is suffering, you find you have mood swings, depression, confusion and irritability or are subject to frequent illnesses, you may be working your body too hard. If you're pushing hard seven days a week or going to the gym twice a day for an extended session, you may be tearing down your body, not building it up. Get sleep, rest your body and if you want to keep active, do active recovery, like walking, between sessions.
Our trainers will create a tough program for you, but also one that lets your body recover and builds your strength and endurance. They watch your progress carefully to make sure you stay on track.
The longer you overwork your body, the longer recovery takes and the longer you'll feel exhausted instead of revitalized. Watch for signs and focus on less intense workouts to help get you back on track.
One sign of overworking the body is a high resting heart rate. If your resting heart rate is normally in the 40 to 50 bpm range and suddenly jumps to 70-80 or higher consistently, talk to your trainer.
Over-exercising can actually cause weight gain, rather than weight loss. It can cause the body to produce less thyroid hormones and increase cortisol, which can increase insulin levels, cause belly fat and other hormonal imbalances.
For more information, contact us today at VIP Fitness Center