Pasta is such a versatile dish; one can have it for breakfast or as an evening snack or a meal. You can serve it as a main course or pair it with soup for a light and fulfilling meal. It's easy to make and you can add any flavor or ingredients, vegetables as per your choice. This recipe serves two people and takes just 35 minutes to prepare.
 What You'll Need:
 1 cup farelle pasta stoned ground whole wheat
½ cup mushrooms
6-8 cherry tomatoes, sliced
3-4 asparagus stalks
2 tablespoon grape seed oil
salt and pepper to taste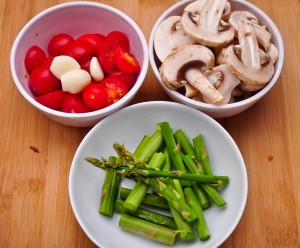 Let's Cook!
1. Boil four cups of water, add pasta to boiling water.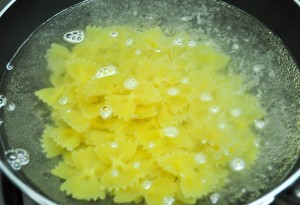 2. Add 1 tablespoon salt and let it cook for 15-20 minutes or until cooked, then turn off the heat and drain the excess water.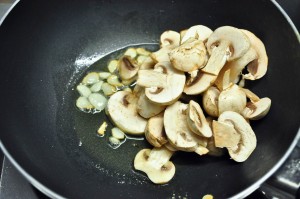 3. Heat a pan with oil, add the garlic and mushrooms, then sauté for 5 minutes.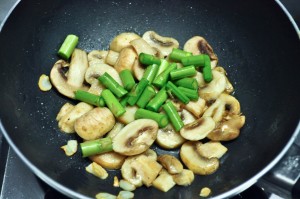 4. Add the asparagus and sauté for 5 minutes.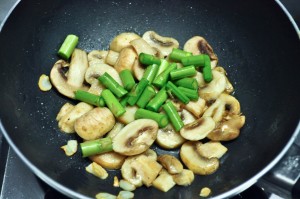 5. Add the pasta, salt and pepper.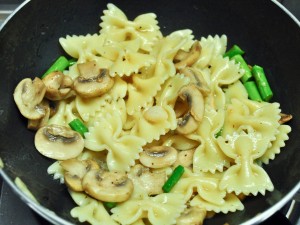 6. Add the tomatoes and sauté for 5 minutes.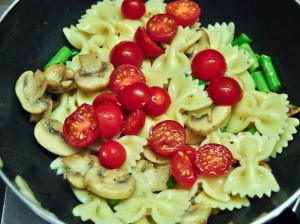 7.Serve warm. It tastes great as it is and can also be enjoyed with other mixed veggies of your choice.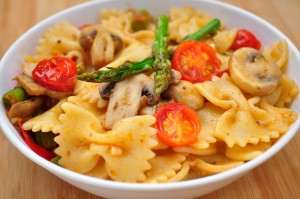 ---
If you love Chinese take-out, lo-mien, or plain easy meals, this recipe is a sure treat. A balanced meal which comes together in mere minutes and uses only one pot is everyone's friend. With this one-pot Cantonese noodles recipe, putting together a healthy dinner fix is a breeze.
 What You'll Need
½ lb prawns (or sliced chicken breast, or a combination of the two)
Salt and pepper to taste
½ cup chopped spring onions
2-3 cups frozen vegetable mix of carrots, broccoli, and cauliflower
2 cups chicken stock (you may need to add ½ cup water)
4-5 ounces of Cantonese noodles (you may also use egg noodles)
Let's Make Some Easy-Peasy Cantonese Noodles!
1. Have all your ingredients ready.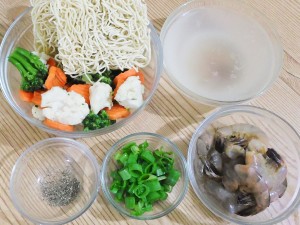 2. Place everything in a deep enough pan (except half of the spring onions).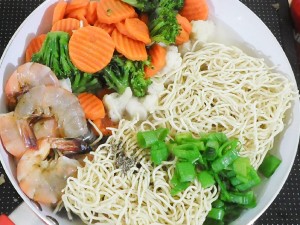 3. Cover for 3 minutes over medium-high heat.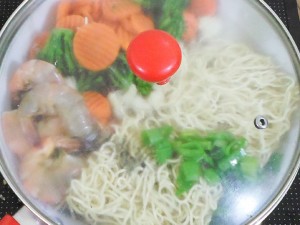 4. Give it a stir to ensure the noodles cook through and the veggies and prawns are done nicely as well. At this point, you may add soy sauce for color but it's not that important. Season with salt and pepper.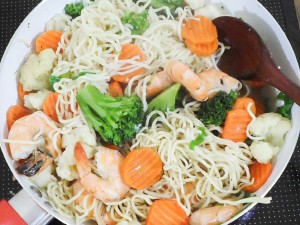 5. Cover again for another 3 minutes until the noodles has absorbed all the liquids.
6. Serve with a sprinkling of chopped green onions, enjoy! This recipe makes 2-3 generous servings.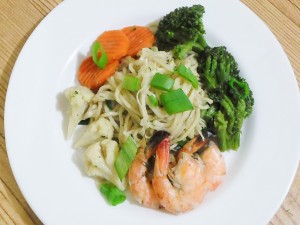 ---
If you've been interested in health and fitness for a while then one piece of advice that you're likely to have heard over and over again is to 'drink at least 8 glasses of water per day'. While this is sound advice, there's a lot more to staying healthy while you hydrate than just drinking water. In this article I'm going to be taking a deeper look at healthy hydration and listing five of the best tips for staying healthy as you rehydrate.
Tip 1 – Consume The Equivalent Of 8 Glasses Of Water Per Day
As mentioned above, many health and fitness publications recommend drinking eight glasses of water per day. However, what most of these publications fail to state is that you can consume this water in any form. So if you're finding drinking eight glasses of water per day difficult, try getting some of your water from other sources such as black tea, coffee, green tea, water rich fruits or water rich vegetables. Not only does this add variety and stop you getting bored when trying to hit your water target but it also allows you to fill up on plenty of other health boosting nutrients in the process.
Tip 2 – Mix Up Your Water Intake With Coffee & Tea
Black tea, coffee and green tea are all excellent ways to top up your water levels and stay hydrated. In addition to this, all of these drinks contain a number of health boosting nutrients. Black tea and green tea contain high levels of flavan-3-ols which fight allergies, boost your blood heath, protect against chronic disease, strengthen your immune system and much more. Coffee on the other hand is rich in hydroxycinnamic acids which reduce inflammation within the body, strengthen your bones and your heart, relieve chronic pain and much more. Therefore, by drinking coffee and tea you'll not only prevent dehydration but you'll also be able to enjoy all these health benefits.
Tip 3 – Avoid All Types Of Soda
Although it contains water, soda is something you need to avoid if you want to hydrate in a healthy way. Regular soda is loaded with sugar and by drinking it continuously, you'll gain unwanted body fat. Diet soda doesn't contain the calories or regular soda but it's packed full of harmful chemicals which have numerous negative implications when it comes to your health. So if you're currently drinking lots of soda, make some changes today and replace it with coffee, tea or water.
 Tip 4 – Enjoy Water Rich Fruits & Vegetables
Water rich fruits and vegetables are another excellent way to fill up on water while also benefiting from numerous health boosting vitamins, minerals and phytonutrients. Most fruits and vegetables contain a good amount of water but if you're looking for the best options in terms of hydration, go for broccoli (89% water), grapefruit (90% water), lettuce (96% water) and watermelon (91% water).
 Tip 5 – Get A Drink Alarm App
One of the biggest reasons people find consuming the equivalent of eight glasses of water per day difficult is that they simply forget. They're not used to drinking this volume of water and then once the day gets going, they get wrapped up in their usual routine and don't follow through with their plans to stay hydrated. The good news is that there is a relatively simple solution to this problem – drink alarm apps.
Drinks alarm apps are simple smartphone applications that log your daily water intake and remind you to drink water throughout the day. They're incredibly easy to use and once set up, all you have to do is confirm that you've drank water with each reminder and the app will take care of the rest. So if you find that your poor memory is often the reason you don't get enough water, grab a drink alarm app today.
Summary
 By following the tips above, you'll not only provide your body with all the water it needs but you'll also fill up on a range of health boosting nutrients and avoid excess liquid calories. In addition to this, you'll be getting your water from plenty of different sources, so you'll never get bored.
---
Want some new appetizer or cocktail recipe which is easy and palate friendly? This smoked salmon tortilla rollups is a crowd pleaser, perfect for gatherings with guests or for pot lucks. The best part is they look fancy and guests will think you got them from a specialty deli or restaurant although it is so easy that even someone who is a complete kitchen neophyte can do it.
What You Will Need:
 12 inch flour tortilla (we are using whole wheat flour tortillas in this recipe)
1 tablespoon mayonnaise
1 tablespoon mustard
Toothpicks or cocktail skewers
3 ounces of smoked salmon, sliced thinly
A few leaves of lettuce (either ice berg or romaine)
3 slices of mild cheese (the one used for sandwiches)
Time to Roll up Some Appetizers!
1. Get all of your ingredients ready.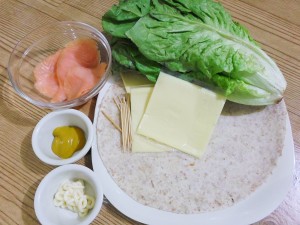 2. Spread the mayonnaise and the mustard over a rectangular area of the flour tortilla.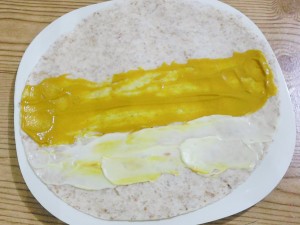 3. Add in the lettuce.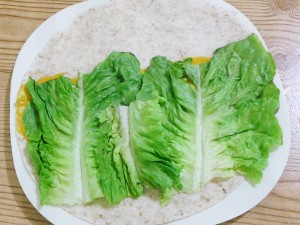 4. Add a layer of smoked salmon.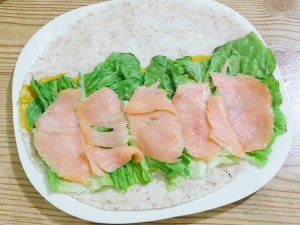 5. Then a layer of cheese. Arranging them this way will create a nice color contrast when you cut the roll up into slices.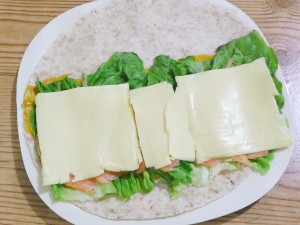 6. Roll the tortilla tightly, secure with toothpicks/cocktail skewers about an inch apart. Use this as a cutting/slicing guide. Cut the rolled up tortilla using a very sharp knife.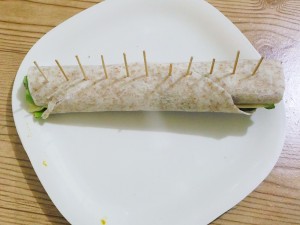 7. This recipe is for a single roll which makes 10-12 slices.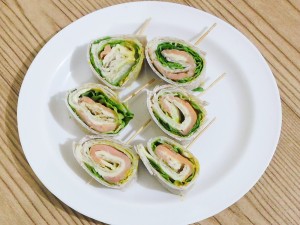 ---
This may be an Italian classic but this time we will be using locally grown ingredients. It's very easy to do and something that I turn to when I am craving for pasta but I don't have the luxury of time to do it.
 What You'll Need:
500 g Spaghetti noodles or Penne Rigatte – Cook pasta per package direction, when briskly boiling put salt and oil before adding the pasta
2 cans of good quality chunky tomato
120 g of bacon – chopped, any bacon will do but I prefer using honey cured because I like it a bit sweet, Yes, 120 g only because you just want a kick of bacon flavor to your sauce
1 teaspoon of brown sugar – yes, Filipinos have a sweet tooth but don't worry it won't be overwhelming
Fresh basil
4 cloves garlic, chopped
1 teaspoon chili-flakes – you may adjust it according to preference
1 teaspoon olive oil
Salt and pepper to taste
Parmesan cheese (optional)
Method:
1. In a large skillet, put a teaspoon of olive oil. The reason why I only use a teaspoon of oil is because the bacon will release its natural fat which will add flavor to the sauce. When the oil is hot enough, add the bacon, cook it for a few minutes under medium heat or until the bacon is slightly golden brown and has released a lot of its own fat or juices. Then add in the garlic.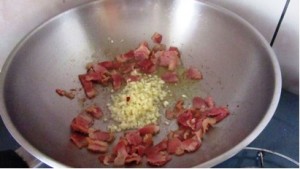 2. Add a pinch of hot pepper flakes. You can put as much as you want until you get the right kick that suits your taste.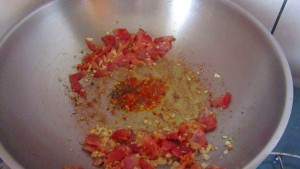 3. Cook it for a minute or so or until the garlic becomes lightly brown.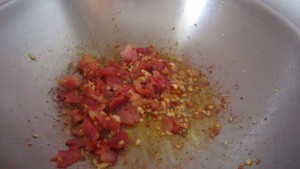 4. Now, add in the crush tomatoes and sugar. Again, make sure you get yourselves good quality ingredients. When it comes up to a boil, reduce the heat on medium low and let it simmer for 10-15 minutes. Add salt and pepper. Make sure you taste your sauce first before adding in the pasta.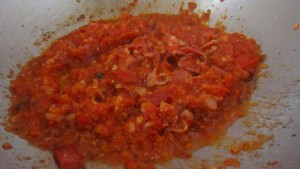 5.  Turn off the heat and toss in the pasta. Mix to perfection! Add parmesan cheese should you prefer to.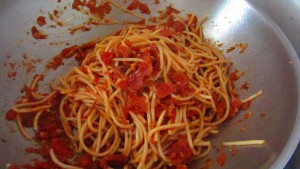 6. Serve the pasta and enjoy!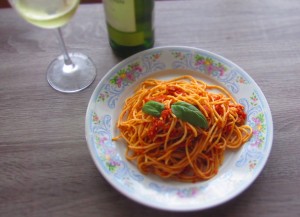 ---
Craving a sweet, tangy, and cheesy breakfast sandwich? Then try this honey cheddar sourdough grilled cheese!
 What You'll Need:
Sliced sourdough bread
Honey
Cheddar slices (use sharp cheddar for best contrast of flavors)
Butter
Any easy melting cheese of your choice
Let's Make Some Awesome Grilled Cheese!
1. Preheat your griddle your pan as you prepare all your ingredients.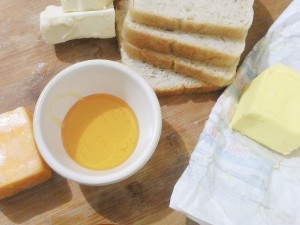 2.Lay down some cheddar slices on a slice of bread (photo shows two sandwiches).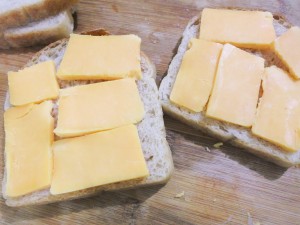 3. Drizzle in some honey, and then add the easy-melt cheese.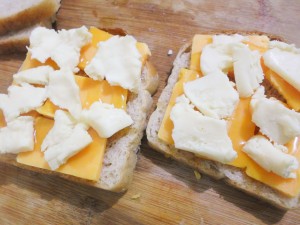 4. Add another slice of bread to make a sandwich and spread some butter over it.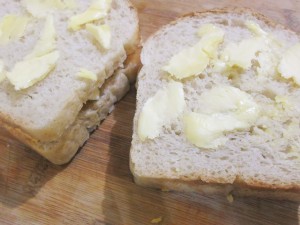 5. Place on a hot pan or grill over medium high heat and 'cook' each side until well browned and cheese is melted.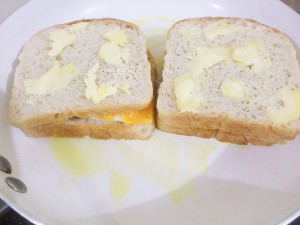 6. Slice diagonally and serve up!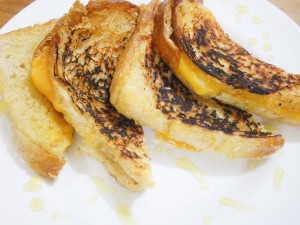 7. Make as much as you want or make an entire batch for everyone! You can also make this ahead of time and freeze until you are ready to heat up your pan or grill. Enjoy!
---
Craving some quesadilla but have only a few ingredients? If you have some tortilla and happen to have some goat cheese or mozzarella, then this recipe is definitely for you!
What You Will Need:
Flour tortillas (this recipe uses 12 inch diameter flour tortillas)
1 small red bell pepper, cut into strips
1 small green bell pepper, cut into strips
3-4 ounces of goat cheese
Lets Flip Some Quesadillas!
1. Get everything you need ready and set to go.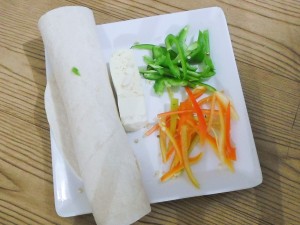 2. Using a non-oiled non-stick pan on medium heat, heat up both sides of the flour tortilla.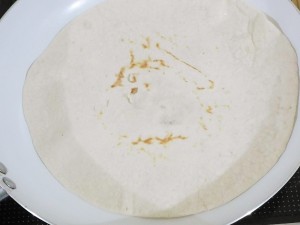 3. Place the red and green bell peppers, and the goat cheese on one side of the flour tortilla.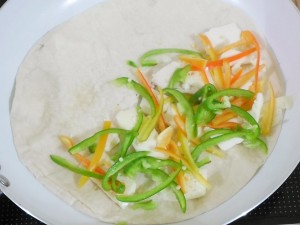 4. Fold the flour tortilla in half and flip until both sides are browned and the cheese have melted.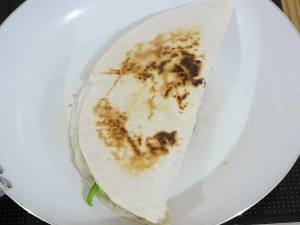 5. Cut the quesadilla in manageable wedges and serve with hot sauce and mustard for filling meal. This recipe serves two for snack portions and 1 for dinner. What's great is that you may substitute the goat cheese for mozzarella or other mild cheese, making this dish totally customizable and convenient!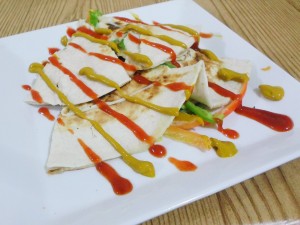 ---
One of the biggest issues people have when trying to lose weight is their lifestyle. They're fully prepared to eat the right foods and do the appropriate exercises but then life gets in the way and throws all their hard work out of the window. The good news is that with a little planning and consideration, you can burn body fat while also dealing with the challenges that life throws at you. In this article I'm going to be helping you do exactly that by providing you with five of the best weight loss lifestyle tips.
Tip 1 – Exercise In The Morning
Exercising in the morning isn't the only way to lose weight. However, if you lead a busy lifestyle, exercising first thing ensures that you get your workout in before the pressures of the day set in. Scheduling your workouts for later in the day when you're already busy makes you a lot less likely to follow through with them. Therefore, if your schedule allows it, make your weight loss workouts the first thing you do when you wake up.
Tip 2 – Prepare Healthy Food In Advance
One of the main reasons people eat unhealthy meals at short notice is because they're running short on time. They plan to eat healthy but then something comes up at short notice and they don't have time to put together a healthy meal, so they grab some fast food instead. However, if you set aside some time each week to prepare a batch of healthy meals, then you'll always have something healthy available for the times you're in a rush and you'll never have to resort to fast food as a quick fix again.
Tip 3 – Always Carry Some Workout Clothes
Even when you lead a busy lifestyle, you'll find that sometimes appointments are cancelled or moved and you're left with unexpected blocks of free time. These blocks of free time are a fantastic opportunity to get a workout in and burn some extra body fat. However, to take advantage of them, you need to have the right gear close by. Therefore, make a point of always carrying some workout clothes with you, so that if a block of free time opens up during the day at short notice, you're fully prepared to make the most of it.
Tip 4 – Walk When You Can
Most people don't walk as much as they could. They take the elevator instead of the stairs and use their car for short journeys that could be easily completed on foot. However, walking burns 240 calories per hour, so by walking whenever you can during the day, you can give your fat loss efforts a notable boost. Just an hour of extra walking per day will burn off over 1,500 calories during the week and over 7,000 calories during the month. So next time you head for the elevator or grab the car keys, think whether that's really the best decision for losing weight and if possible, turn it into an opportunity to add some extra walking to your day.
Tip 5 – Be Flexible With Your Cheat Meals
One big mistake people make when trying to lose weight is being too rigid with their cheat meals. They decide that one day of the week is their cheat day or allocate certain days and times during the week as cheat meals and then if they end up eating any cheat meals outside of these allocated slots, they feel guilty and disappointed. However, life is spontaneous and things will come up at short notice that make it difficult to stick to your healthy eating plans.
So instead of beating yourself up about these spontaneous cheat meals, adapt your healthy eating schedule and give yourself a 20% cheat meal allowance during the week but don't allocate dates and times to it. Then when you have a cheat meal at short notice, remove it from your 20% allowance. This approach is much more flexible and allows you to adapt your healthy eating plans based on what life throws at you while still sticking to your healthy eating goals.
Summary
 As you can see, with the right attitude, it's possible to stick to your fat loss goals in any situation. So take another look at these tips, start implementing them today and ensure that your lifestyle doesn't ever hinder your weight loss goals again.
---
Top 5 Weight Loss Diet Tips for Bergen County Residents
If you're trying to lose weight, a healthy, calorie controlled diet needs to be the foundation. However, many people don't take this into account when attempting to drop the pounds and as a result, their fat loss efforts suffer. That's why in this article I'm going to be sharing with you five of the best weight loss diet tips.
Tip 1 – Be Aware Of Your Total Calorie Consumption
While the quality of the calories you eat is very important when trying to lose weight, the amount of calories you consume will ultimately determine your fat loss success. Even if all your calories are coming from healthy and natural foods, if you eat too much, you'll struggle to lose weight. Therefore, make sure you have a general awareness of the total number of calories you're consuming and if you struggle to drop the pounds over an extended period of time, consider reducing your total caloric intake.
Tip 2 – Choose Natural, Unprocessed Foods
Natural, unprocessed foods are generally low in calories. In addition to this, they're a fantastic source of vitamins, minerals and phytonutrients. Not only do these nutrients help your body perform many essential functions but they also put it in an optimal fat burning state. Processed foods are generally high in calories and contain a fraction of the nutrients that can be found in natural, unprocessed foods. This means by choosing natural, unprocessed foods over processed foods, you consume less calories overall and burn more body fat as a result of the additional nutrients.
Tip 3 – Learn To Cook
If you want to get the maximum flavor out of natural, unprocessed foods and truly enjoy your meals, then you need to learn to cook. This may seem daunting at first if you're used to living off processed foods that require minimal preparation. However, once you get started with some simple recipes, you'll quickly pick it up and be enjoying a wide range of healthy, low calorie meals in no time at all. The more you enjoy these meals, the more likely you are to keep eating them which prevents you from falling back into bad habits and binging on unhealthy foods.
 Tip 4 – Fill Up On Vegetables
Making the switch from processed foods to natural, unprocessed foods will give your weight loss efforts a huge boost. However, if you want to take it a step further, adding multiple servings of vegetables to every meal is a great way burn even more body fat. Most vegetables contain less than 50 calories per serving and have a very high concentration of vitamins, minerals and phytonutrients. However, despite their low calorie content, vegetables are surprisingly filling and do a great job of satisfying your appetite. This makes them a great fat burning food and the more you eat them, the more weight you'll lose.
Tip 5 – Allow Yourself Occasional Cheat Meals
Losing weight does require a certain level of discipline when it comes to your diet. However, being too strict with what you eat and making certain foods forbidden rarely works and often leads to strong cravings followed by large, unhealthy binges. Therefore, to avoid binge eating and make your weight loss diet is manageable in the long term, you should enjoy cheat meals in moderation. These cheat meals can include any foods you like and the only rule is that you consume them 20% of the time and stick to healthy, natural, unprocessed foods the remaining 80% of the time. Doing this provides you with a buffer to eat any foods you desire but also ensures that most of the time, you're eating foods that promote fat loss.
Summary
By making these simple but effective dietary changes, you'll notice a huge difference and your excess body fat will start to melt away. So if you've been struggling with weight loss for a while, make sure you implement these tips and get the figure you've always desired
---
Do you need a quick yet attractive looking treats for your upcoming party or reunion? Or are you finding cool kitchen activities that you love to do with your kids? Or better yet, your kids hate bananas? Then this is the right tutorial for you! Today we will be making a quick, yet fun activity that would definitely catch the attention of your kids or guest. You can make several of these in minutes and you can finish in no time!
This will not only encourage your kids to eat bananas, but this is also a healthy alternative to junk foods that your kids maybe addicted to. So if you are interested, then let us start making this!
 What You'll Need:
Several bananas
A block of sweetened chocolate
Several popsicle sticks
Rainbow sprinkles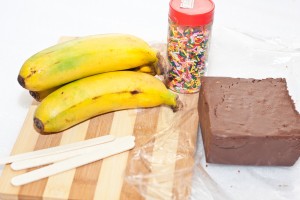 Method:
1. Peel the bananas.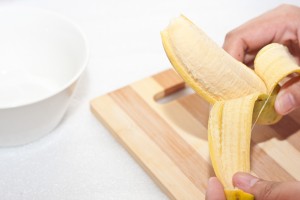 2. Cut the bananas in half.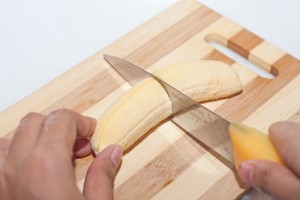 3. Stick the bananas on the popsicle sticks.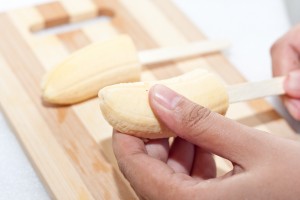 4. Slice the chocolate bar into small pieces and place it in a microwavable bowl or container.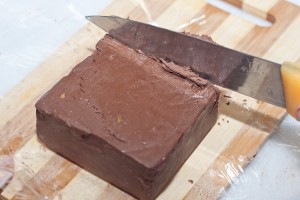 5. Place the chocolate in a microwave oven for 2 to 3 minutes. Make sure to check the chocolate every minute to make sure that the chocolate will melt evenly and prevent it from burning.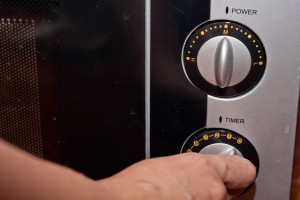 6.Dip the banana on the melted chocolate. Be quick in doing this step since most of the melted chocolate tends to solidify in an instant. That would still vary on the type of chocolate bar you used. You have the option to cover it completely or leave the bottom part bare, it is all up to you.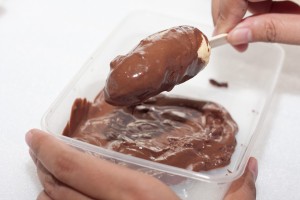 7. Carefully sprinkle the rainbow sprinkles around the chocolate-covered banana. This is perfectly done when the chocolate is still in its liquid or semi-liquid state. Put the chocolate-covered bananas in the freezer for 30 minutes.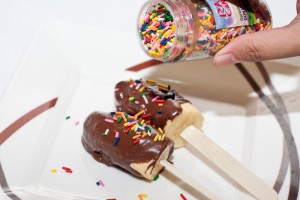 8. Finally done! You can now serve the chocolate covered bananas to your guest or your kids!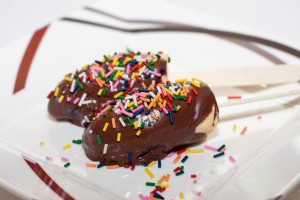 ---