This may be an Italian classic but this time we will be using locally grown ingredients. It's very easy to do and something that I turn to when I am craving for pasta but I don't have the luxury of time to do it.
 What You'll Need:
500 g Spaghetti noodles or Penne Rigatte – Cook pasta per package direction, when briskly boiling put salt and oil before adding the pasta
2 cans of good quality chunky tomato
120 g of bacon – chopped, any bacon will do but I prefer using honey cured because I like it a bit sweet, Yes, 120 g only because you just want a kick of bacon flavor to your sauce
1 teaspoon of brown sugar – yes, Filipinos have a sweet tooth but don't worry it won't be overwhelming
Fresh basil
4 cloves garlic, chopped
1 teaspoon chili-flakes – you may adjust it according to preference
1 teaspoon olive oil
Salt and pepper to taste
Parmesan cheese (optional)
Method:
1. In a large skillet, put a teaspoon of olive oil. The reason why I only use a teaspoon of oil is because the bacon will release its natural fat which will add flavor to the sauce. When the oil is hot enough, add the bacon, cook it for a few minutes under medium heat or until the bacon is slightly golden brown and has released a lot of its own fat or juices. Then add in the garlic.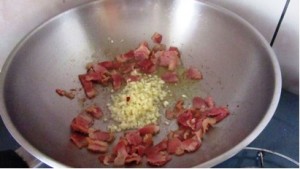 2. Add a pinch of hot pepper flakes. You can put as much as you want until you get the right kick that suits your taste.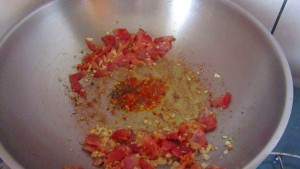 3. Cook it for a minute or so or until the garlic becomes lightly brown.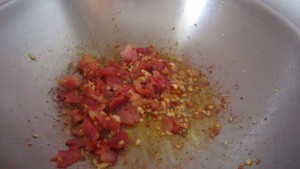 4. Now, add in the crush tomatoes and sugar. Again, make sure you get yourselves good quality ingredients. When it comes up to a boil, reduce the heat on medium low and let it simmer for 10-15 minutes. Add salt and pepper. Make sure you taste your sauce first before adding in the pasta.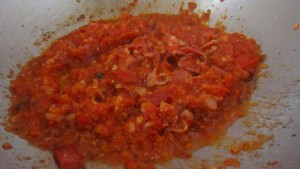 5.  Turn off the heat and toss in the pasta. Mix to perfection! Add parmesan cheese should you prefer to.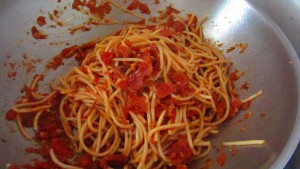 6. Serve the pasta and enjoy!