Nothing irks me more than when good people are misled by fitness myths. These myths interfere results and keep people miles from their goal weight.
So I've got to warn you about the false rumors going around Bergen County, about strength training.
Strength training is the number one thing you could possibly do for your health, development, and fitness.
Don't fall for one of these 5 myths and miss out on remarkable potential results.
Strength Training Myth #1: Muscle Can Turn Into Fat
Why would you want to build muscle if they think it could morph into fat over time? Don't worry; this myth is seriously bogus.
Muscle tissue is muscle tissue. Fat tissue is fat tissue. One will never become the other.
Strength Training Myth #2: Strength Training Makes Women Bulk Up
Sure, strength training increases the amount of muscle on your body, so many women take this to mean that their body will become body-builder-esque. Not quite the look you're going for…
The truth is that the female body simply doesn't naturally contain large enough levels of testosterone to put on bulk muscle without a very focused and dedicated effort. Rest assured, ladies, the effort you spend on strength training will get you closer to that lean, toned look you want.
Strength Training Myth #3: Strength Train Enough and You Can Eat Anything
This irks me all the time, as I've seen so many people throw away their hard- earned fitness results by eating unhealthy foods.  If you do strength training everyday at intense rate, your total calories will still count. A lot of people miscalculate how many calories they eat with how many calories the burn each day.
For best results, maintain a calorie-controlled is to have fresh diet, and be on the strength training routine.
Strength Training Myth #4: Strength Training Does Not Burn Fat
If you are trying to loose weight, muscle is your number one ally against fat gains. Regular strength training helps you increase your muscle mass as well as preserves existing muscle mass.
Strength Training Myth #5: High Reps And Light Weights For Toning
Never do high repetitions because that will increase your muscular endurance but will not add strength or tone.  In order for you to challenge your muscles, you need to do heavier weights with lower repetitions. By including strength training as a part of the fitness routine you'll achieve a fit and toned body in Bergen County.
My custom-made fitness programs remove all of the guesswork for you. I know what works, and I make it my mission to see you reach your goals.
Call or email me today and we'll get you started on the program that's best for you.
For Best Results…
Want to get the most from your workouts? Follow these 5 tips:
Be Consistent: exercise at least 4 times each week.
Be Challenged: change your routine often.
Be Patient: don't forget that true fitness results take time.
Be Excited: find an exercise program that you love.
Be Coached: call in a professional, like me, for real results. Call or email today!
Cranberry Chicken Salad
Meals that are high in protein and natural fiber are the perfect way to compliment your strength training routine to achieve your fat loss goal quickly. This recipe for Cranberry Chicken Salad is a delicious way to eat lean and clean. Serve on large lettuce leaves. Servings: 8
Here's what you need…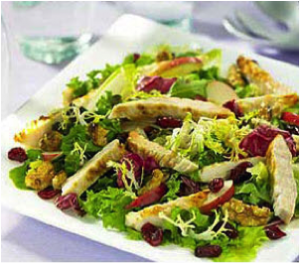 4 cups cooked chicken breast, cubed
1 fennel bulb, chopped
1/4 cup roasted pistachios, chopped
1/4 cup dried cranberries
1 Tablespoon roasted pepitas
3 Tablespoons coconut milk, canned and full fat
1 teaspoon dried, ground sage
3 Tablespoons fresh parsley, minced
dash of salt and pepper
head of Romaine lettuce
1. Mix all of the ingredients, except the lettuce, in a bowl. Serve by spooning the chicken salad in large Romaine lettuce leaves.
Nutritional Analysis: One serving equals: 221 calories, 9 fat, 123mg sodium, 10g carbohydrates, 4g fiber, and 23g protein.
Motivate your friends, family and co-workers! Use the "refer a friend" link below to forward this newsletter and subscribe your friends.