How many times have you told yourself that you'd exercise and get fit, if only you had the time? If I had a dollar for time I've heard the I-don't-have-time excuse… New and exciting research is coming out in favor of shorter, more intense workouts. The old way of exercising at a slow speed, for long periods of time, is over and done. Short and intense exercise sessions in Bergen County that utilize High Intensity Interval Training get you better results with way less time invested. So there goes the time crunch excuse. You don't need to spend hours in the gym to get amazing results. A simple 30 minute workout, done right, is all you need.
So what does this magical 30 minute workout consist of?
As mentioned above, there's a little secret in the fitness world called High Intensity Interval Training. This means rather than doing the same cardio exercise your entire workout, you'd alternate between short, high-intensity bursts of exercise with slower, low-intensity periods of recovery.
The research makes it clear that this method of training burns more calories and builds fitness quicker with less time invested.
Not long ago, elite athletes were the only ones benefiting from this method of training, but now the cat is out of the bag, and everyone is open to reap the rewards of interval training. And you don't even need fancy equipment or special training to start seeing results with interval training.
So how long should your intervals be? The answer is, it doesn't really matter.
There are no real hard-and-fast rules with interval length. Varying lengths bring varying benefits, so it's important to find which length works best for you.
Beginners should aim for no more than 30 seconds of high-intensity bursts. If you're feeling strong and are in good shape, then go ahead and push yourself a bit longer.
An interval-training workout involves four variables that can be modified to meet your goals: intensity of intervals, duration of intervals, duration of recovery intervals, and the number of interval repetitions.
Interval training can be casual, spur of the moment bursts of activity depending on how you're feeling that day or if you're working towards a specific sports or fitness goal then you can take a more sophisticated, scientific approach.
The simplest example of interval training for walking would be to add short bursts of jogging or alternate slower walking with brisk walking. If you walk outdoors, then jog or walk faster between certain landmarks such as mailboxes or street signs, then slow down for a short distance. The more popular, and effective, form of interval training includes alternating between resistance training exercises and high intensity cardio exercises.
So it turns out that we all really do have enough time to get an effective workout each day…and that old excuse about not having time is no longer going to work.
If you have a fitness or fat loss goal that you'd like to achieve, please feel free to reach out to me. I'm here to be your resource and your coach for all things fitness.
Call or email today to get started on a fitness program that will get you to your goal quicker.
You and I both know you have enough time for that!
Pump Up Your Intensity
Use these tips to increase the intensity of your workouts:
Add Some Resistance. Lunges, squats, hip bridges and even sit-ups can all be made more intense with some added resistance. A set of dumbbells, kettle bells, sand bags, medicine balls or resistance bands would do the trick. Pay attention to when the resistance starts to feel too easy, and add weights accordingly.
Increase Your Speed. If you think you could go faster, then do it. The more that you push yourself during your sprinting intervals, the quicker and more stunning your results will be. Remember, you can do anything for just a few seconds.
Lengthen Your Intervals. If your workout is starting to feel less challenging then add a few seconds to your intense intervals. Start by adding 5 seconds and go up from there.
Do New Exercises. For the best results, never do the same workout twice. There are many of small changes that can be made to keep a routine fresh and new. Swap out burpees for high knees, mountain climbers for jump squats and so on.
BBQ Meatballs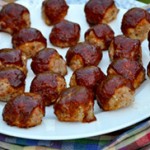 Here's a wonderful protein-packed snack recipe. The addition of homemade BBQ sauce takes these meatballs from regular to extraordinary. Enjoy as a power snack or throw a couple on a pile of greens for a light meal. Makes: 18
Here's what you need…
2 beaten eggs
1/2 cup blanched almond flour
1/4 cup flax meal
1/2 cup onion, finely minced
2 Tablespoons coconut milk, canned, full fat
1 teaspoon Dijon mustard
1/4 teaspoon black pepper
12 oz ground cooked ham
12 oz ground raw pork
1/3 cup coconut crystals
2/3 cup organic, no-sugar-added ketchup
3 Tablespoons apple cider vinegar
2 teaspoons Dijon mustard
In a large bowl combine eggs, almond flour, flax meal, onion, coconut milk, Dijon, and pepper. Add ground ham and ground pork; mix well. Shape into 18 balls, using about 1/4 cup mixture for each ball. Place ham balls in a lightly greased 2-quart rectangular baking dish.
In a bowl combine coconut crystals, ketchup, vinegar, and Dijon. Stir until the coconut crystals dissolve. Pour a spoonful over each ham ball.
Bake, uncovered, in a 350 degree F oven about 35 minutes or until done. Transfer ham balls to a serving platter and enjoy!
Nutritional Analysis: One meatball equals: 122 calories, 7g fat, 293mg sodium, 5g carbohydrate, 1g fiber, and 9g protein
Motivate your friends, family and co-workers! Use the "refer a friend" link below to forward this newsletter and subscribe your friends.