Craving something out of the ordinary but is easy to prepare and takes only a few minutes? You will surely love this recipe for Beef Honey Curry Stir Fry. Imagine succulent pieces of thinly sliced beef, in a smoky sweet and a bit spicy sauce with colorful veggies, it's a delight is it not? This dish can be served with pita bread, pasta, noodles, or steaming hot rice, and it's even better the next day. Yay!
What You Will Need:Half a pound of sukiyaki cut beef
Half a cup of honey
Half a cup of soy sauce
4 tablespoons curry powder
4 tablespoons of oil
1 teaspoon ground black pepper
1 medium sized red onion, sliced
1 medium sized red bell pepper, sliced into strips
1 medium sized green bell pepper, sliced into strips
1 medium sized yellow bell pepper, sliced into strips
Let's Get Cooking!
1. Prepare all the ingredients that you'll need.
2.   Marinate the beef with marinade made of soy sauce, curry powder, honey and ground black pepper and let it stand for 15 minutes.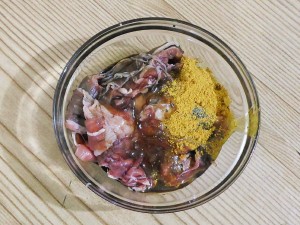 3.Using half of the oil, sauté the red bell pepper, green bell pepper, red onion and yellow bell pepper over high heat for a few minutes (usually just a little over a minute), taking care that the vegetables are cooked but not wilted. They should remain crunchy for great texture. Take the cooked vegetables off the pan and set aside.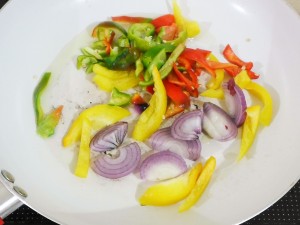 4.In the same pan, add in the remaining half of the oil and cook the beef together with the marinade over medium heat until the sauce thickens and the beef is cooked through. This only takes 3-5 minutes. Turn off the heat.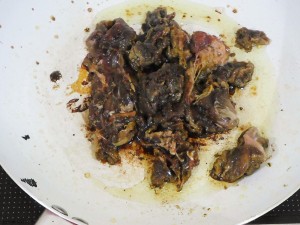 5. Toss the cooked vegetables with the beef in the pan to coat it with some of the sauce and to bring all the flavors together.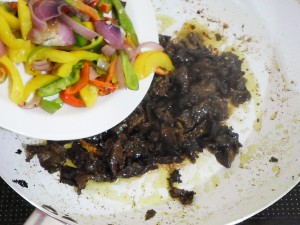 6. Serve over steaming hot rice, mashed potato, or even pasta! This recipe makes for about 3-4 servings.