Don't Believe The Muffin Top Myth
There is one thing that irks me; it's seeing people led off target by the Muffin Top Myth.
These well-meaning folks devote time and effort under a faulty premise that gets them zero results.
The more you put your valuable time and energy into a fitness program; you deserve to see nothing less than incredible results.  Therefore, that's my commitment to all of my clients.
I get upset when I see people working hard without getting any result, and achieving their goals.
So what's this Muffin Top Myth?
The belief that doing a magical ab exercise will get your tummy flatter, shrink your waist, and will get rid of your muffin top.
I'm sorry to tell you but there is no such magical ab exercise.
If you will continue with your unhealthy life style, the ab exercises will not make your muffin top any smaller.
If you want to shrink your belly, you need to improve on your diet and exercising routine to support fat loss from your entire body, including—but not limited to—your midsection.
This is some tip for you to get rid of your muffin top
Shrink Your Belly Tip #1: Stop Eating Processed Foods
Everyone loves a good shortcut, right? Depends on where that shortcut takes you.
From now on I want you to think of processed foods as a shortcut to belly fat.
I wouldn't be surprised if future studies prove that the over-processing, chemical additives and high fructose corn syrup that are pumped into processed foods specifically adds fat around your belly.
If you want to shrink your belly then stay away from sugars, sodas, chemically altered fats, processed, packaged, fried and preserved foods.
Shrink Your Belly Tip #2: Eat Fresh, Whole Foods
Once you've cut the processed foods out of your diet, fill in the space with lots of fresh foods like:
Green vegetables
Whole, organic, seasonal fruits
Lean, hormone-free, high quality meats
Colorful organic veggies
Nuts and seeds
I know this list of foods may seem boring at first, but if you stick with it long enough, you'll grow to love the tantalizing flavors of real food. Moreover, you will come up with your own healthy recipes.
When your diet is filled with healthy foods that are listed above, your body will quickly shed pounds and lean out.
Shrink Your Belly Tip #3: Do Challenging Exercise
One of best way to lose your muffin top forever is with a consistent, progressive exercise program.
Consistent: You should be exercising 3-5 times each week.
Progressive: For truly awesome results, keep your body guessing with new exercises and increasing intensity.
My exercise programs are specifically crafted to get you into the best shape of your life. I'm passionate about achieving you goals and helping you with your diet plan.
I'd love to hear from you! If your in Bergen County call or email me today so we could get started.
Killer Ab Exercises
Real crunches won't reduce your body fat, but that doesn't mean you shouldn't strengthen your abdominal muscles. Steady ab exercises are an essential part of a well balanced exercise routine. Try these killer ab exercise:
Plank: Lie face down on mat resting on your forearms, palms flat on the floor. Push off the floor, raising up onto your toes and resting on your elbows. Keep your back flat, in a straight line from head to heels. Tilt your pelvis and contract your abdominals to prevent your rear end from sticking up in the air or sagging in the middle. Hold for 30 to 60 seconds, lower to the start position and repeat for 3-5 reps.
Knee Tucks: Start on your back, bend your knees with your feet on the floor and knees touching. Extend both arms overhead on either side of your ears, palms facing up. Exhale and bring your knees up towards your chest. Slowly lower your hips back down to start position. Repeat for 12-15 reps.
One-Armed Full Sit Ups: Start on your back with your right knee bent, foot flat on the floor, and left leg extended straight out. Extend your right arm to the ceiling and reach your left arm towards your left foot. Sit all the way up, rolling through your back, keeping your right foot on the floor, and your right arm up over your shoulder and your left arm reaching in front of you all the way up. Slowly roll back down to the floor. That's one rep. Repeat 15 times on one side, 15 times on the other. For an extra challenge hold a dumbbell in your extended arm.
Field Greens Salad with Candied Pecans
You know that eating lots of greens is key component to shrinking belly fat, so try this delicious field greens salad. Add a side of lean protein to this recipe, like sliced chicken breast, for the perfect, fitness-approved meal. Servings: 4
Here's what you need…
For the Salad:
1 Tablespoon organic coconut oil
1/3 cup roughly chopped organic pecans
3 Tablespoons coconut crystals
4 cups organic, mixed greens
1 Bosc pear, sliced
For the Dressing:1/3 cup olive oil
1/4 cup balsamic vinegar glaze
1 packet stevia
1 Tablespoon fresh thyme
1 teaspoon Dijon
1 minced garlic clove
dash of pepper
In a small skillet, place the coconut oil over low heat. Once melted, add the pecans and cook, stirring constantly, for 3 minutes. Add the coconut crystals. Continue to cook, stirring constantly, for about 4 minutes, until the crystals have melted and the pecans are golden. Remove from heat, set aside.
Combine the dressing ingredients in a small jar. Mix well.
Divide the greens and sliced pears between 4 plates. Top with the candied pecans and drizzle with dressing. Enjoy!
Nutritional Analysis: One serving equals: 196 calories, 14g fat, 49mg sodium, 15g carbohydrate, 3g fiber, and 2g protein.
Motivate your friends, family and co-workers! Use the "refer a friend" link below to forward this newsletter and subscribe your friends.
---
I've got to warn you. There are fake rumors going around Bergen County about strength training.
The truth is that strength training is one of the best things you can do for you to stay in shape and form.
If you've fallen for these 5 myths then you're missing out on fabulous potential results.
Myth #1 Muscle Turns Into Fat
Why would anyone want to build muscle if it could alter into fat after a span of disuse? Rest secured that this is a myth of the highest order.
Muscle tissue will always be muscle tissue. Fat tissue will always be fat tissue. Therefore, one will never become the other.
Myth #2 Strength Training Doesn't Burn Fat
On the opposite, muscle mass is your number one ally against fat gains.
A pound of muscle burns 10-20 calories on the daily bases, while you're just living and breathing. Standard strength training helps you increase your muscle mass. It also preserves existing muscle mass, turning you into a fat burning machine.
Myth #3 Lifting Weights Makes Women Bulk Up
Yes, strength training increases the amount of muscle on your body. Many women's body turns into body-builder-esque, and that's the look you're going for.
The truth is that the female body doesn't contain high levels of testosterone to produce that level of results without a very focused and dedicated effort.
The tighter, toned figure of a recreational female weight lifter is every bit feminine.
Myth #4 Strength Training Is For Young People Only
Starting Strength Training at the young age is widely considered to be the best beginner strength training program by the weightlifting community.
As soon as you doctors approves, you have much to gain from a regular weight lifting routine.
Improved balance and coordination, better strength and flexibility, and a decreased risk of osteoporosis are just the start to the strength training.
Myth #5 Use Light Weight and High Reps To Tone
This myth, popularized in the 90's, that very high repetitions of very light weights would result in a toned physique, has become outdated. These high repetitions will increase your muscular endurance but will not add strength or tone.
We know that in order to truly challenge your muscles, heavier weights with lower repetitions are a must. Start with an 8-10 repetition range and push your muscles with each set.
If you want to achieve fit and toned body strength training should be a part of your fitness routine.
My custom-made fitness programs will make you reach your goals in short amount of time.
Call or email me today and we'll get you started on the program that's best for you in Bergen County.
Motivate your friends, family and co-workers! Use the "refer a friend" link below to forward this newsletter and subscribe your friends.
---
Let's face it, some days you just don't feel like exercising.
You get too busy, too stressed and quite simply too tired.
But this shouldn't stop you from lacing up your shoes and heading out for a workout!
Here's a list of 13 of the top reasons to exercise. Pull out this list and read it when you need a reminder of why exactly exercise is worth your time…
1. To Prevent Disease
Exercise has been proven to reduce the risk of just about every single health problem known to man, from stroke to heart disease to cancer and osteoporosis. Exercise is also a great defense against type 2 diabetes, which is one of the most widely growing diseases of our time.
2. To Look Great
Exercise firms your body, improves posture and even makes your skin glow. Looking your best is a wonderful result of regular exercise.
3. To Lose Weight and Keep It Off
Exercise burns fat and prevents future fat storage. If you want to have a thinner, healthier body, exercise is the answer.
4. To Have More Energy
Anyone who exercises regularly will tell you that they are more energetic, less easily irritated and are more peaceful.
5. To Sleep Better
Exercise boosts energy levels, but also wears you out. It makes you feel more vibrant during the day and sleep better at night.
6. To Age Slower
Exercise is one of the most effective ways to fight aging. When you age your body loses muscle and bone, while the loss of both are drastically reduced with regular exercise. Exercise also helps reduce inflammation.
7. To Relieve Back Pain
In most cases, the best thing that you can do for back pain is to move and strengthen those muscles. Consult your physician or physical therapist for guidance.
8. To Ease Depression
Exercise has been proven to reduce depression – sometimes even as effectively as medication. Just chalk this up as yet another amazing benefit to exercise.
9. To Reduce Aches and Pains By strengthening muscles around your damaged joints you're able to use exercise to reduce joint pain and overall aches. Always consult your physician before starting an exercise program, especially if you have chronic joint pain.
10. To Stay Mentally Sharp Exercise has been shown to improve memory and other cognitive functions, and seems to have a protective effect against dementia. A Harvard University researcher called exercise "Miracle-Gro for the brain."
11. To Enjoy Your Lifestyle
Whatever it is that you love in life – your kids, travel, sports, fashion—it is all more enjoyable when experienced in a fit and healthy body. Exercise so that you are able to enjoy all the great things in life.
12. To Reduce Sick Days
People who exercise regularly are 50% less likely to call in sick to work. A regular exercise program reduces colds and upper respiratory infections.
13. To Boost Confidence
Being fit, feeling healthy and having energy are all building blocks to having great confidence. There is no better confidence booster than sticking with a regular exercise program.
Regular exercise gives you so many amazing benefits, as you've seen from the above list. Call or email me today to get started on the exercise program that will change your life forever.
Easy Way To Eat Less
One of the main reasons for weight gain is due to extra, unnecessary calories. If you need to eat less, but don't want to feel deprived, try this simple mind shift…
Instead of eating until you feel full, stop eating as soon as you are no longer hungry.
Egg White Chile Omelet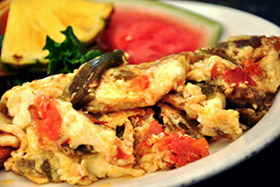 Here's a recipe to spice up your breakfast. Egg whites, fire-roasted green Chile and diced tomatoes create a tasty omelet that is bursting with flavor and packed with protein. Serve with a side of salsa and sliced avocado.
Servings: 2
Here's what you need…
1 teaspoon olive oil
3 small tomatoes, finely chopped
2 (4oz) cans of fire-roasted, diced green chiles
12 egg whites
2 Tablespoons water
Non-stick cooking spray
In a skillet, heat the oil over medium heat. Add the tomatoes and chiles and cook until soft, about 3 minutes. Season with pepper and salt and set aside.
In a medium bowl whisk the egg whites and water. Lightly coat a medium non-stick skillet with non-stick cooking spray and place over medium heat. Add 1/4 of the eggs and swirl to evenly coat the bottom of that pan. Cook until the eggs have set, about 2 minutes.
Use a rubber scraper to lift the eggs up and let the runny uncooked egg flow underneath. Spoon 1/4 of the chile mixture onto half of the omelet, fold over, and slide onto a serving plate. Repeat with remaining egg whites and chile mixture.
Nutritional Analysis: One serving equals: 163 calories, 5g fat, 6g carbohydrate, 2g fiber, and 26g protein.
Motivate your friends, family and co-workers! Use the "refer a friend" link below to forward this newsletter and subscribe your friends.
---